Property Maintenance and Home Improvement
I specialize in small repairs, maintenance, and improvements to home and small business properties in the Bedford, Dartmouth, Halifax, and Sackville metropolitan regions (HRM) of Nova Scotia.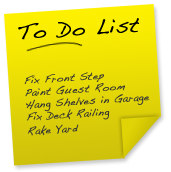 I provide professional handyman services to keep your property looking its best. And because I have the experience, skills, and tools to do the job right all your small property repairs are convenient and hassle-free. I always arrive on-time and complete your jobs efficiently. I take pride in my work and I leave your property tidy when I am done.
I guarantee all my work with a ONE YEAR warranty!
My rates are affordable and my services convenient offering my customers excellent value. My philosophy is simple: great service at a fair price for every small job I do.
Contact me when you need an experienced handyman to tackle all those little jobs on your "To Do" List.